Nancy English was born on May 5, 1951 in Minneapolis, Minnesota to Blake and Kay English.  Nancy and her brother, Blakeley, attended Minneapolis public schools.  She went on to Augsburg College where she graduated with honors in Sociology.  At Augsburg, she volunteered at The Bridge, a runaway home for youth and youth emergency services.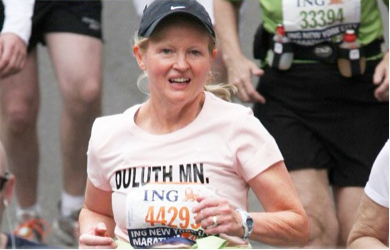 Even at this early age, she yearned to be a physician; however, as she told one of her daughters, "Women were persuaded from going into medicine in my day.  When I would mention to teachers that I wanted to be a doctor, I'd often get the response that I should look into social work or nursing.  Although I am happy I went into social work because it gave me a greater understanding of the personal side of medicine, ultimately, I wanted to be a Family Doctor.  I am glad I had the strength to go back later in life." Social Work was also her passion though.  She went to the University of Minnesota and obtained her Masters in Social Work Degree in 1975 and her license.  During this time she worked as a family therapist at the Jewish Family Service Center and the Social Work Department at Augustana Home. 

She focused her Social Work career in Elder Care where she participated in many research projects and wrote multiple publications including a chapter entitled "Community Services" from Older Persons and Service Providers by Gorian Sorenson in the Human Sciences Press from 1981.  She also did many public speaking engagements relating the Elder Issues.  She worked at the Ebenezer Society where she was responsible for the grant proposal writing, contract writing and negotiations for the development of programs such as the Certified Home Nursing Service Program, the Homemaker-Home Health Aide Service Program, Short-term Live-In Service Program, Chemical Dependency Program for Seniors, Adult Protective Services Program and Adult Day Care Program. 

Nancy met her life partner, husband, Tom Crook at his father's gas station in 1974.  They married on February 28, 1976.  Tom and Nancy moved to Moorhead, Minnesota in 1978 where she began teaching at Concordia College as an assistant Professor.  She was responsible for organizing and writing the application to the Minnesota State Board of Examiners for Nursing Home Administrators for approval of the Long Term Care Program that she started there.  Concordia's program was the first undergraduate program to be approved in Minnesota.  At Concordia, she developed and taught the following courses: Mental Health and Aging, Social Services Programming and Aging, Long Term Care Administration, Senior Seminar in Long Term Care and the Practicum.  Additional course taught included Social Work Methods I and II, Community Organization, and Gerontology. 

Nancy also worked at Fairmount in Moorhead, Minnesota where her primary responsibility was to set up the operation and manage the assisted living facility.  She also worked at Lutheran Health Systems where she acted as a consultant and resource person on a variety of long term care concerns and related special projects to enhance services within the System.

Nancy and Tom had two daughters in Moorhead, Hilary English Crook, born 10/30/1979 and Emily Kathryn Crook, born 1/25/1984.  Yearning to go back to Medical School, Nancy went back to school in 1985 to complete pre-med courses at Moorhead State University.  Nancy was then accepted into UMD's Medical School in 1988 where she was the recipient of the 1990 Charles M. and Ruth H. Bagley Scholarship in recognition of outstanding clinical skills, received an honorable mention for the Puumala Award given to the student best exemplifying the characteristics of the ideal family physician, awarded the Gerontology Fellowship through Fairview Hospital Foundation in 1991, and received an honorable mention for the Memorial Award given to the student who contributes generosity and kindness for the betterment of the class. 

In 1992, she accepted a position at the Family Practice Clinic in Duluth, Minnesota for her residency.  In 1995, she began her tenure at P.S. Rudie and Associates.  She loved her work.  She loved helping people.  In addition to working at P.S. Rudie, she was the secretary for the Medical Executive Committee at St. Luke's Hospital until 2006, a Member of Medical Executive Committee at St. Mary's Hospital, Vice President of the Lake Superior Medical Society, and she also participated in a special task force funded by the State of Minnesota to investigate child infant mortality in southern St. Louis County and make recommendations for change.  Based on the results and recommendations a grant was awarded by the March of Dimes to investigate the effectiveness of social services in a primary care setting.  Nancy was also awarded a grant through the U. S. Congress to host a Delegation of Health Care Professionals to learn about rehabilitation services in Duluth, Minnesota in December 2008.  She served as the Chief of Staff –Elect at St. Luke's Hospital from 2006-7 and was elected Chief of Staff at St. Luke's Hospital in January, 2008 for a 2-year assignment. 

Nancy was an advocate for everyone.  In her short 57 years, she made a huge impact on people and the communities she served.  However, the long biography above just scratches the surface of what Nancy loved.  She loved to sew.  She sewed bunads, blankets, clothing, worked on hardanger and knit sweaters.  She loved technology – she could make slideshows, videos and everything imaginable on the computer.  She played the piano, flute and guitar.  She was an excellent singer and sung in the John Duss Choir, First Lutheran Church Choir and the Duluth/Superior Symphony.  She loved to cook.  She would make brunches for all events and would make everything from scratch.  She was also an avid exerciser and runner.  She ran over 8 marathons and dozens of 10 milers and half marathons. 

Above all, she was a wife and mother.  More than anything she loved her family.  Even though she did everything and more listed above, she was at every sporting event, school conference and family reunion possible.  In fact, she usually put on the family reunions.  She traveled all over Europe with her family.  She loved her husband and would refer to him as her best friend.  She was also her daughters' best friend.  After her passing, it was clear that Nancy had many best friends and she was loved by all.  She cared for her patients like they were her own relatives.  She cried with them in times of need and was their rock and mentor when they needed one most.  She was all that and more to her family as well.

Although Nancy is not around to witness this Memorial and all the other memorials others have done on her behalf, she would be proud that her name will live on and help other women, like herself, achieve their goals.